Si ça tombe…(Als het wankelt…)

online TICKETS € 7,50 en € 10,00
29 OKTOBER 19.30UUR
30 OKTOBER 16.00 EN 19.00UUR
31 OKTOBER 13.00 EN 16.00UUR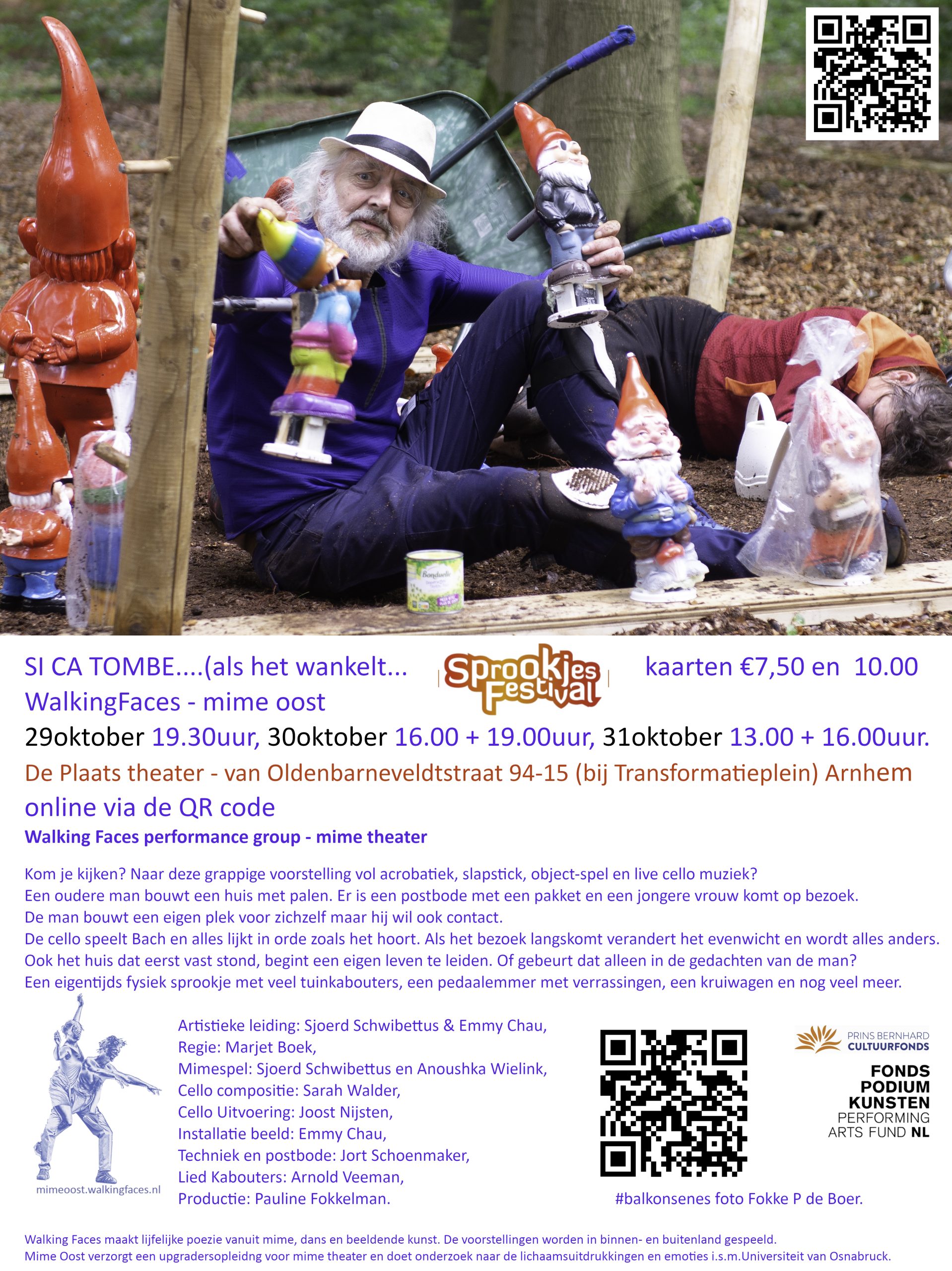 –
–
–
–
–
–
–
–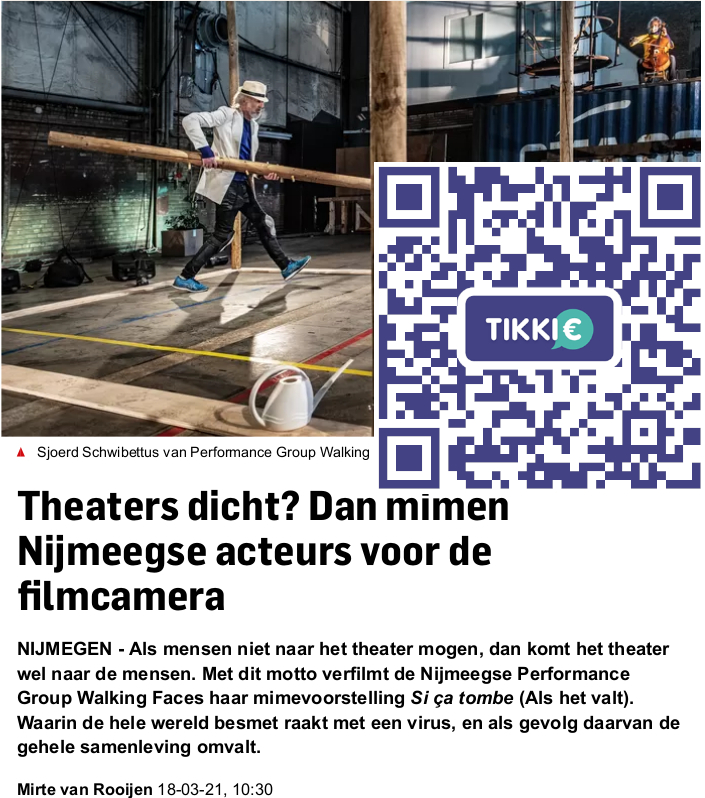 De Gelderlander en AD hebben er een artikel aangewijd: https://www.ad.nl/nijmegen/theaters-dicht-dan-mimen-nijmeegse-acteurs-voor-de-filmcamera~a21e1867/
Veel voorstellingen vanaf december 2020 zijn uitgevallen door lockdown en avondklok. Met LIVE spel en cello, hebben we tijdens de koude winterstorm dagen een verfilming gemaakt in HUBERT culturele broedplaats te Nijmegen. De film staat op zichzelf en moet los worden gezien van de live voorstelling. De duur van de film is 25 minuten en laat een wereld in een wereld zien: verschillende ruimten waarin de zwaartekracht anders werkt. Het wegvallen van de zwaartekracht is als een nieuw virus, en leidt de personages in verschillende gebeurtenissen: Het verlangen naar een eigen plek, een eigen huis en bubbel en de wens voor contact. Alles speelt zich af in een fysieke gebeurtenis: mime, dans, acrobatiek en slapstick. Het is een surrealistische wereld, vreemd, maar met herkenbare concrete verhaallijnen en objecten. De beelden zijn ook voor kinderen geschikt en bevatten geen informatie die schokkend, agressief of ongewenste intimiteiten inhouden.
U kunt Uw donatie overmaken naar Stichting Uppercut IBAN- NL34RABO0191658251 en/of verzend email naar sjoerdschwibettus@walkingfaces.nl – een gebruikelijke donatie (ticket) is vanaf € 7,50 – daarna krijgt u de link per email toegestuurd.
Artistieke leiding: Emmy Chau en Sjoerd Schwibettus. Regie: Marjet Boek Mimespel: Anoushka Wielink, Sjoerd Schwibettus Techniek en marionettenspel: Jort Schoenmaker Cello : Joost Nijsten, compositie cello : Sarah Walders. Installatie en beeld: Emmy Chau. Poductie: Pauline Fokkelman. Kostuum: Atty Kingma. Verfilming: BEELDONTWERP: Jonas de Witte en Matthijs van de Sande. Montage: Matthijs v d Sande, Sjoerd Schwibettus. Met dank aan: Luc ten Broek, HUBERT culturele broekplaats Nijmegen, DePlaats Arnhem, Tijs van Trigt. Dankzij ondersteuning #Cultuurmakersfonds PB en #Fonds Podium Kunsten – #Balkonscenes.
Lessen: elke dinsdagavond Mime corporel lessen in Huis van Puck Kazerneplein Arnhem
Lijfelijke poëzie: de ruggengraat is het klavier van het lichaam. Mime Corporel is articulatietechniek op basis van Decroux. De lessen mime corporel is een onderzoek naar de ruggengraat en de expressie vormen en uitdrukkingen. De mime techniek houdt fysieke lichaamsuitdrukkingen in met:
Toonladders' van beweging, door de gearticuleerde delen in romp, benen en armen ('gammes' – dessins') vormen uitdrukking en vorm in de ruimte,
Studie van snelheid en intentie van de bewegings dynamiek: aarzeling, stop, pauze en verrassing zijn altijd onderliggend aanwezig. De dynamieken zijn bv de chute (fall), effondrement (collapse), antenne d'escargot (snailhorn), toc au depart, toc à la fin, toc moteur (repetative toc), toc fondue (toc directly followed by drawn relaxation), toc butoir (stop).
Gewicht en Tegenkracht, duwen en trekken, aantrekken en afstoten
Stijlfiguren, en mime loopjes inclusief 'silly walks', 'moonwalk', 'commedia dell'arte-grotesken enz. De stijlfiguren of etudes zijn deels abstract, maar in zijn idee en toepassing vanuit een concreet gegeven. De etudes en composities geven direct toepassing aan vanuit en met de techniek bouwen en componeren.
De Tijd Verloren
In 2021-2022 wordt De Tijd Verloren opnieuw gespeeld. De voorstelling speelde  15 november 2019 voor het laatst in Noordwijk: Theaterhuis Zeep aan Zee – 13.30 + 15.30uur. Het bewegingsspel is intiem, jong en oud, een helder verhaal en slapstickstijl. De beeldende installatie bestaat uit verschillende onderdelen van een omgebouwde Weber pianola met luchtslangen. De toetsen hangen in de lucht in de golf vorm van de ruggengraat. Marten Vellema maakte hiervoor een compositie en bespeelt ook live de hangende toetsen en eigen toetsenbord. De mechaniek is als een grote speeldoos en met De Tijd verbonden: alles piept en knarst, zuigt en draait. Het is ook een metafoor voor het menselijk lichaam met asjes, draadjes, hamerslag van de toetsen, actie-reactie, adem en het klavier als ruggengraat.
Sjoerd Schwibettus graduated from the Mimeschool and Modern dance Amsterdam Theater School in 1977 and continued studies in the U.S.A. He is a mime actor, dancer, theater maker – director since 1977. He specializes in Commedia dell 'Arte, Mime Corporel, Mask Theater, Acrobatics. He was one of the leading teachers at Theater Faculty Artez in Arnhem. And also teaches at other colleges and cultural centers for 45 years. Since 1977 he has worked nationally and internationally with many theater groups, companies, festivals and film. Some projects: • Choreographische Wettbewerb 1979 Köln 2nd prize; studies at Martha Graham New York, L.S.C.D. in London, Acting studio New York, Moving Company Los Angeles and Thomas Leabhart mime corporel. • Acrobatics and circus techniques Comobrothers; • Director Corpus-acrobatics.nl Amsterdam since 1990 • Theater projects with mime group Will Spoor, Theater group Perspect, Mime Theater Termiek, Dutch Mime Cemtrum Amstredam, Java film, Stopera Amsterdam, Fools festivals and Oerol, Bogner Clown Company etc. • Neighborhoods for art Arnhem • Art education and school performances in Arnhem and surroundings • artistic director and founder performance group WalkingFaces.nl in Arnhem since 2002 • Founder and artistic director Veem Theater Amsterdam (now House for performance), • Project leader appointed by Ministry Culture and Science for research, development and pilot project for Interdisciplinary Arts Education for Highschool education programs: "Zintuig"-1998, was the start of CKV on every highschool in Netherlands • Sjoerd Schwibettus is also a visual artist, writer, and has many exhibitions on his name. Performances research projects: • Amsterdam Funding for the Arts: for notation and composition design • Institute for Theater Research Amsterdam – Mime and Modern Dance research (publication) • Research and performance project + publication "Borrowed Bodies" in collaboration with Museum van Moderne Kunst in Arnhem. • Research and performance projects in collaboration with Museum Kröller Müller, Amsterdam Historisch Museum and others. • "Masks Moved" Book 1 in Dutch, published October 2016, is a study of emotional expressions and masks for physical theater – Book 2 is edited and translation in English, Octobre 2018. This research into facial and body expressions has led to a new family of emotion masks that are used for the training of actors. Recently: collaboration with: • Osnabruck University of Applied Sciences – Motion Lab – Research on facial and body expressions of emotion. • Mime-fullness.nl – in collaboration with Rob Mattijssen, Manual Physiotherapist: exercise program to improve and handle posture and motor functions. • 'Spine Conversations' performances and installations ('Spine Conversations' including Orchestra 'De Ereprijs' in Transformatielab de Plaats in Arnhem,  Vuurolfestivals Lage Vuursche, Kunstmanifestaties Zaltbommel, Landart festivals Maastricht, and many other places • Teacher mime in Den Bosch, Utrecht, Groningen and Arnhem. In October 2020, a new research group is started for body expressions and emotions.