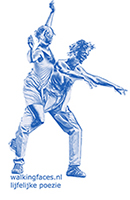 2021 Si ça tombe…(als het wankelt….)
Met Anoushka Wielink, Marjet Boek, Coen Wermers, Sarah Walder: een Covid 19 productie, de zwaartekracht verandert en het wankelt. De installatie laat een huis van palen in aanbouw zien, kabouters beginnen te praten, en alles verandert als de zwaartekracht en de elementen anders worden. Eind december proefvoorstellingen, daarna op tournee in NL Belgie en FR. Instsallatie 333x333x333cm is binnen en eromheen is de almachtige poppenspeler. Vuurol festival wintereditie, HuisvanPuck, filmhuis Focus en meer. Dankzij Cultuurmakersfonds PB en Gem.Arnhem.
2020 De Tijd Verloren – compositie mede gebaseerd op materiaal Anoushka Wielink en Claire Heggen. Mime Stephanie Kersbergen en Sjoerd Schwibettus – Muziek Marten Vellema en Sarah Walders – Techniek Coen Wermers – Installatie en tekst Sjoerd Schwibettus. Vuurol festival 2019, Konijnenvoer restaurant Arnhem, Rozet zomerfestival in MFC Presikhaven, Huis van Puck theater, Cultuurgroep Presikhaven, Noordwijk TheaterHuis van Zeep aan Zee.
2019 Is the spine the keyboard of the body? Klavier installatie en opening – Pracht in de Gracht – Zaltbommel beeldenexpo in de grachten en Music-Physio congress Osnabruck.
2019 Mensen in doosjes en Onder het rokje van de reus,
2019 Landart installatie De slapende mens, Internationaal Landart Maastricht in Vliek bos, en Vuurol festival Lage Vuursche.
2018 Hemelrijk Hemmen kunstmanifestatie – opening – expositie + Het bootje van verlangen in kerkje Hemmen –
2018 Ruggengraat Conversaties, met Installaties Emotieboom en Ruggengraat – Transformatielab De Plaats Arnhem, Vuurol festival Lage Vuursche, en Crafta Kongres Hamburg
2018 We dragen het gezicht dat ons past – Vuurol festival en Huis van Puck theater
2017 Ruggengraat + Hooglied – Pracht in de Gracht – Zaltbommel beeldenexpo in de grachten
2016 Cello trip met Geleende Lichamen met Sarah Walder Kunsthuis Velp
2016 Clockmill – Margraten Plateau Kunst Manifestatie Maastricht -performance met installatie van Clemens Maassen
2016 Drager van Lucht – installatie en opening Landart Manifestatie Jeruzalem landgoed Maastricht
2014 Het oog van Maurits – Performance Lingezegen park opening ism Zepplinn
2014 Postbode Monologen i.s.m. Wijken voor Kunst Arnhem
2013 Pracht in de Gracht – Zaltbommel beeldenexpo in de grachten
2013 Totems Internationaal Landart Maastricht kasteelpark Bethlehem
2013 – Solitude – Maastricht Landart manifestatie i.s.m. Clemens Maassen
2013 Pythagoras met Sarah Walder, Tis Marang – huiskamerperformance, Stevko Busch en Arnhems Muziek Platform in De Lommerd
2013 Totems – cultuurroute en wijken voor kunst Arnhem op Staringplein en Dinxperlo, 2014
2012 Gravure pour une chemise
2011 Geleende Lichamen i.s.m. Lab De Schuur en MMKA Arnhem
2010 Wandelende Woorden
2010 – Evolution met Corpus-acrobatics
2009 Hotel van Vergeten Dagen
2009 Lijfacademie, lessen mime corporel voor alumni
2008 Het Uitgesteld Verlangen
2007 talkingMantalkingWoman
2006 Je schrijft woorden onder mijn huid
2005 Je te promets un miracle