Persoonlijke achtergrond Sjoerd Schwibettus 1952 Uit mijn werk spreekt een cross-over. Ik ben werkzaam als beeldend kunstenaar, ontwerper/architect, theatermaker, mime acteur, danser en schrijver. Een statement van mijn werk: Lijfelijke poẽzie: de sculptuur van de mens is uitgangspunt. * Vakdocent Hogeschool voor de Kunsten sedert 1977 * Mime en Dans performance acteur, theatermaker, beeldend kunstenaar installaties en sculpturen.
Publicaties: Geleende Lichamen ism Museum Moderne Kunst Arnhem 2011, recensie in Kunstzone december 2011: onderzoek naar de vergankelijkheid van schoonheid n.a.v. de doodsportretten van Jan van Herwijnen. Van dit onderzoek is een leporello boek verschenen met dvd Geleende Lichamen ISBN 978-90-822015-0-5. Zintuig – interdisciplinair pilot project Kunsteducatie voor V.O. 1998 projectleider door Ministerie van Onderwijs + Wetenschappen en Platform Kunsteducatie aangesteld. Maskers Bewogen – onderzoek naar emotie uitdrukkingen en maskers voor fysiek theater: symposium en boekpublicatie oktober 2016 – GARD pilot – praktijkonderzoek – ISBN 978-90-822015-1-2. Archetypes – onderzoek naar emoties en lichaamshoudingen en uitdrukkingen. In augustus 2019 zijn Maskers Bewogen en Archetypes opnieuw samengesteld en vernieuwd en te verkrijgen in het Engels(PDF publicaties)-op aanvraag.
2919 De Tijd Verloren
2018 – Crafta Hamburg 5th congress + Osnabrück congress Muzik therapy – met Harry von Piekartz, Sarah Walder, Sanne Bokkers, Michail Veerman, Stephanie Kersbergen, Emmy Chau
2018 Color & Emotion – onderzoek naar kleur en emotie in houding en expressie dr. Harry von Piekartz en Sjoerd Schwibettus i.s.m. Universiteit van Osnabrück en Universiteit voor de kunsten Anrhem, faculteit Theater.
2017 Ruggengraat onderzoek- Facial and Posture Expression during Basic Emotion Expressions:
2017 Het Geheim van de Bakker, korte film van Mathilde Maas, Jelle Tigchelaar ea. voor Lagere school kunsteducatie.
2015 Silhouetten tegen het licht – kunstfilm over het ritme en licht als een dans van het landschap in Zeeland, Schouwen Duiveland. Met Eef de Graaf en St .Lava. Opening in De Dikke Toren, de film werd daar de hele zomer vertoond.
2015 – Maskers Bewogen, presentatie van een onderzoek naar 21 emoties en maskers voor fysiek theater: symposium en boek presentatie i.s.m. ArtEZ faculteit theater Arnhem met Albert Hoex, Datus Voorhorst, Emmy Chau, Frans Krom en de studenten ArTEZ theaterdocent.
2014 VAR met Niels van der Ree, korte film
2011 Evolution – regie/dramaturgy met Corpus bewegingstheater
2010 Komma 4 – Spiekbox met Danielle Bouwmeester, Anouk Saleming, Rosalinde Hauwert e.a. – Sontsbeektheateravenue, binnentuin Dudok festival en Alkmaar de Parade tournee.
2010 Albert Heijn is fijn, korte film voor klantvriendelijk Albert Hejn Anrhem
2005 On Stage festival Arnhem, samenwerking ArtEZ, Oostpool, HuisvanPuck en Domein: initiatief en artistieke leiders: Sjoerd Schwibettus, Jan vd Wees, Gerrit Stallinga-Henk Dassen, Albert Hoex,
2000 Morf – afstudeervoorstelling DDV Arnhem Onder de Linden 21 theaterschool – regie en maken met Laura, Anouk, Nicolette, Rianne, Sarah, Rian
1999 Maatje 90 poppentheater Kouland en Theetijd: regie en maken met Evelien Pullens, Heddy Veltkamp, Chrysta, Joost Belinfante-muziek, Veronica Hazelhoff-verhaal
1998 Zintuig – interdisciplinair pilot project voor kunsteducatie, begin van CKV, in opdracht van Min. van Onderwijs, cultuur en wetenschappen en Platform Kunsteducatie V.O.
1996 Het Filiaal met DRIE: regie en maken met Petra van Spanje, Ingrid Vreke en Salome Nobel in Theater Kikker Utrecht en daarna tournee kleine theater/schouwburgvoorstelling voor Peuters
1995 Een Ding Voor Van Binnen – mime-poppentheater, regie en maken met Rik Rikken en Paula Sman
1993 DE MUZE Tilburg – maken en regie mimevoorstelling
1991 Zakken VPRO spel vuilnismannen in scenario en regie van Frank Alsema, Koen Venken.
1991 Een Ander Oog – jeugdvoorstelling Corpus acrobatiek regie en maken met Marley Eltz, Vincent Michels, Roland Ikelaar – in Theater Kikker Utrecht, Plein theater 1992 ea kleine theaters in NL. 1992 Onderaardsen – bewegingstheater Avignon festival en tournee in Nederland: Academie theater Belluvue A'dam, ea.
1990 De Hafakker met Het Virus, Hotspot en Corpus – Zomerfeest festival 1991 Noordwijkerhout = regie en maken met Kees Hoogeveen,
1989 What shall we do without us?
Kees Hoogeveen en Sjoerd Schwibettus maakten een serie absurde muziektheater voorstellingen: China, DasBoot, Nozem. Onder meer in theater van de Melkweg A'dam, tournee met workshops door het hele land als schoolvoorstelling. In Gdansk IX festival of drama 1994 – 1e prijs en verder in Polylangage Frankrijk Lyon 1992
1987 Silly Simfony, Peter Ruiter en Sjoerd Schwibettus bij de uitreiking van het Handboek voor de Mime, aan minister van WVC Elco Brinkman, met toespraken van Ide v. Heijningen, Saskia Noorman-Den Uijl in Bellevue theater Amsterdam.
1986 El Retablo de Maese Pablo – stichting Nederlandse Opera in Het Muziek theater Amsterdam – ( Stopera ), schouwburgen Utrecht, Eindhoven, Scheveningen.
El retablo de maese Pedro (Master Peter's Puppet Show) is a puppet–opera in one act with a prologue and epilogue, composed by Manuel de Falla to a Spanish libretto based on an episode from Don Quixote by Miguel de Cervantes.
1986 Along the road – korte serie films met Ruud Monster, Marjan Wolfseher, Mike Passchenegger, prijs int.filmfestival Rotterdam
1985 De Passant – Het Veem Theater, Shaffy circuit middelgrote theaters NL, artistieke leiding en idee Sjoerd Schwibettus met Peggy Larson, Anne Walseman, Marjan Wolfseher, Ulrike Pulkert, Michiel, Kees Nobel, Wouter Nieuwenhuizen, Liesbeth Iest
1984 Vergezicht – Het Veem Theater, Shaffy circuit en middelgrote theater NL, artistieke leiding Sjoerd Schwibettus met Adri Verberne, Hein Vrasdonk, Marjan Wolfseher, Wouter Nieuwenhuizen, Liesbeth Iest,
1985 De Woede in de kop van de doelman – Het Veem theater, Jeugdtheaterdagen festival, Shaffy circuit, regie Adri Verberne,
1985 – Enkele reis avondrood, Terra ignognito Zomerfestijn festival Amsterdam Het Veem Theater
1983 'n Stoel om in te Zitten – Zomerfestijn 1983 – Het Veem Theater en theatercircuit Shaffy – scenario: mimografie opdracht AFK
1983 Silly Simphony – bij de uitreiking van het Nederlands Mime Handboek in Theater Bellevue door Elco Brinkman, minister voor cultuur. In opdracht van het Mimecentrum Amsterdam maakten Peter Ruiter en Sjoerd Schwibettus deze mime etude.
1982 mime festival Dat was de Moeite Waard – 50 Bladeren ea Het Veem Theater
1982 Along Aline – Het Veem Theater, Shaffy en circuit

1981 Onderzoek naar mime en moderne dans onder Nederlands Theater Instituut – Jan Kassies – Bewegingsstudio Sjoerd en Gail in Korte Prinsengracht Amsterdam
1981 'n Heer op 'n Herenfiets – Het Veem Theater – Shaffy circuit NL
1981 Het Veem Buitengemeen, opening gebouw en Theater Het Veem
1980 Leven van de Wind – bewegingsstudio Sjoerd & Gail Korte Prins studio A'dam, X6 London ea.
1980 – Lesstudio en Dances for small spaces, Happelguy huppelt- Bewegingsstudio Korte Prinsengracht
1980 Halfhousing, Gallery, In this brief transit, A Dance, Sybrig Dokter Gail Dockery, Kate Gault, Mark Kingsford, Julyen Hamilton, Sjoerd Schwibettus-Bewegingsstudio Korte Prinsengracht Amsterdam
1980 Flimlach – riverside studio's en LSCD London en Dartington
1980 Bodem Valt Uit – bewegingstudio Korte Prinsengracht Amsterdam, Shaffy theater circuit
1980 Perspectacolo Pericoloso – mimetheater Perspect Haarlem en schouwburgen NL
1979 The Incredible Bounce – vanuit opdracht Stedelijk Museum Alkmaar 1976, en daarna in Korte Prins Studio – LAK theater Leiden, Waagtheater Delft, met Mark Kingsford.
1979 In this brief transit Kate Gault Bewegingsstudio Korte Prins Amsterdam
1979 De Verlenging – mimetheater Termiek, Shaffy circuit
1979 Harpya Raoul Servais animatiefilm met Wil Spoor, Fran Waller Zeper, Sjoerd Schwibettus te Gent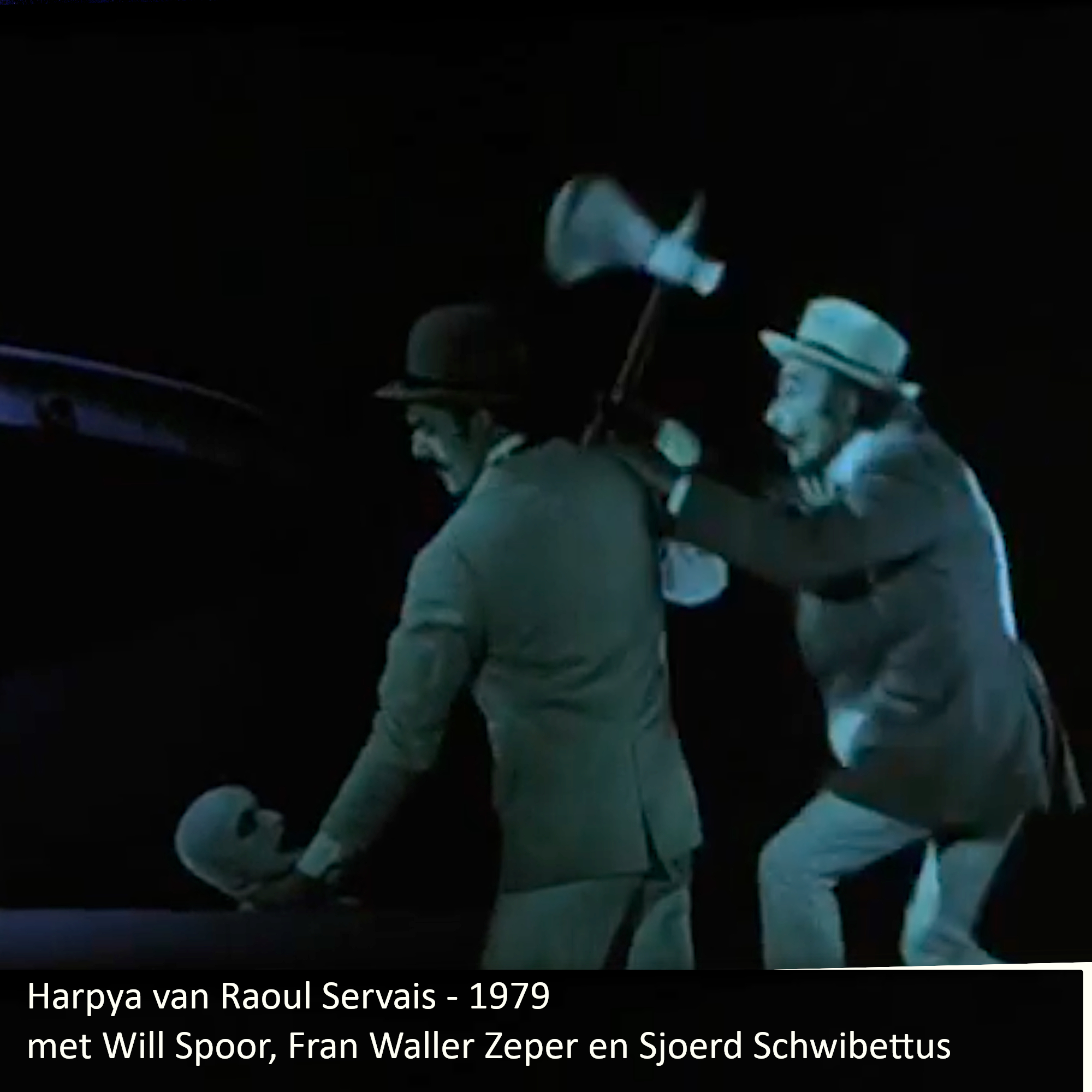 1978 Topje van de Ijsberg – 2e prijs Int. Choreographischen Wettbewerb Köln
1978 Bogner Clown Company – Fools festival NL en schouwburgen Duitsland
1978 'n lach en 'n lucht van wandelende gezichten – Californie USA, Vreeland – Kikker Utrecht – LAK theater Leiden
1978 de Grondtoon en de Luchtzak – Historisch Museum en Kroller Muller museum Otterloo
1978 Falaffel – mimetheater Termiek – Enschede, en Shaffy circuit theaters en locaties in NL.
1977 Tafel in Kwint – mimetheater Termiek – shaffy en circuit
1978 De Bolhoedmannen – schouwburgen NL, Lyon, Bordeaux, Parijs centre Pompidou, Berlijn, NewYork
1977 – COMO brothers: Rijk Hoedt en Cor Veldhoven, examens
1976 In the Bar of the Tokyo Holtel – Shaffy circuit – regie Wil spoor
1976 Four Saints in Three Acts – Maastricht en Amsterdam
1976 Diabolo Mime theater Termiek – Shaffy theater
1976 Valley Studio's – Wisconsin summer school mime Thomas Leabhart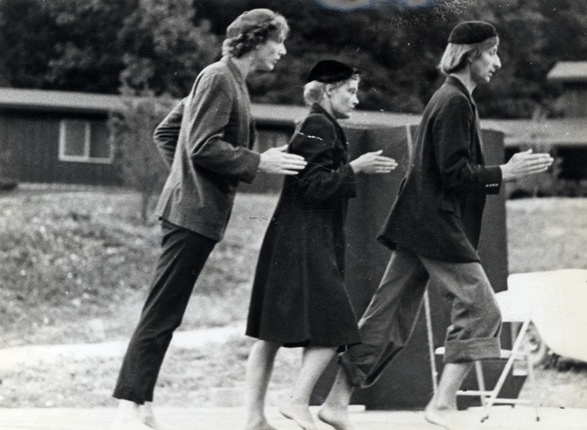 1976 Tobbe – Amstelkerk Amsterdam
1976 De Fotograat (van Otto B.Dijk)
1975 mime school Prinsengracht